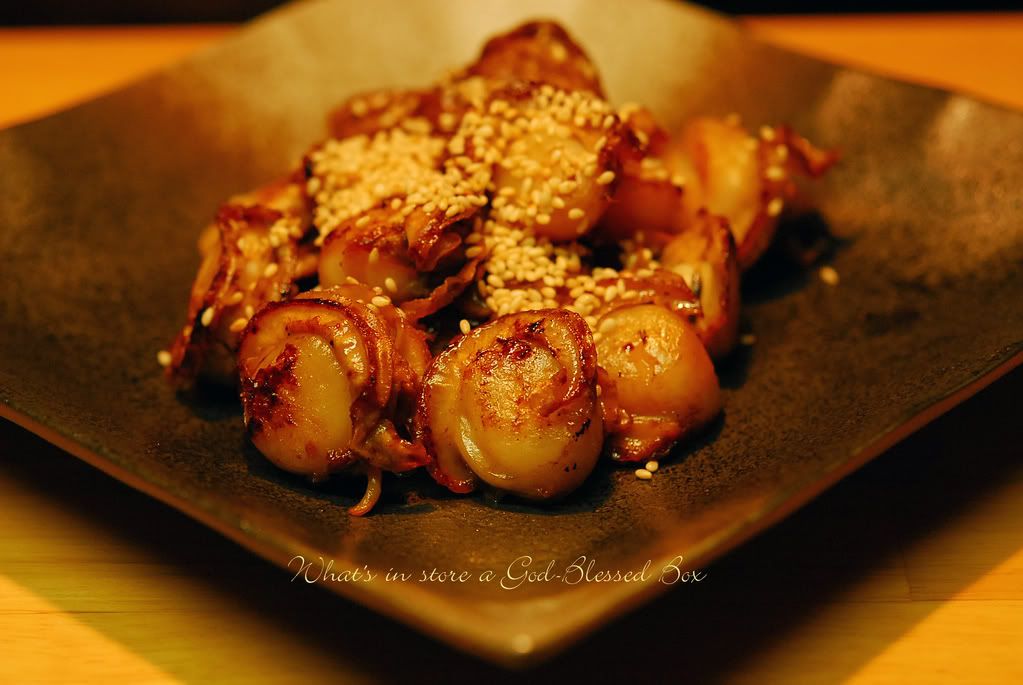 U

nderstand 現代和風 ( gen-dai-wa-fu ), which means ' modern-Japanese '. A clever application that incoporates the Western element, without eliminating the Japanese fundamentals.
My husband who appreciates olden Japanese style, accepts modern-Japanese touches just as readily. In fact, he prefers the latter which always produces a result neat and clean. Modern-Japanese finishes can be found in architecture, fashion, landscape design and many other features; not forgetting Japanese cuisine.
It's butter that helps clothe the scallop in a modern-Japanese style, and soy sauce to complete it immaculately. This simple trick always fill the kitchen with a compelling aroma that must have travelled to other homes. Buttery scallops bursting with flavour of the soy sauce-accomplice and its own, blamelessly perfect. We probably eat slower than usual when enjoying this dish, cos the heavenly chewing is all too rewarding...
Recipe for Buttered Scallop with Soy Sauce, in modern-Japanese style
Ingredients
Fresh Scallop ( dried scallops do not work ) with or without roe, the bigger the better : 200g
Butter : 10g, or 1 large tablespoon
Soy sauce : 1 tablespoon
Options for finish : Sesame seed, Seaweed shreds, mustard sauce
1. Melt butter at medium fire, and throw in scallops to saute at high fire. Flip scallops occassionally to avoid burn.
2. When traces of butter disappears, lower to medium fire. As the fragrance intense and scallops start to show browning, add in soy sauce for a quick and thorough stir. Enjoy, enjoy the indescribable tempting aroma...
3. To finish, dash sesame seeds over. If you prefer seaweed in thin shreds, cut the soy sauce amount to half a tablespoon to avoid too much salt. The scallops may be enjoyed too with mustard sauce for dipping.
Ah huh... I'm just so sure that you'll love this amazing recipe. =)