S

hout : TGIF!

F

...

F

...

F

...

F

...
Admit it. Don't you just love Friday?!?! =)))))
Before my return on Monday, I simply want to leave this desk with a cheery tone. =)
What a week it has been! It's very upsetting to watch the news on TV about people suffering in Myanmar and China. Some friends are having predicament, and restless... At home, a little disturbances here and there, but it has been a gracious week to be thankful for. =) I mean, we're living in peaceful times nonetheless, compared to people out there who are confronting serious issues.

We're still learning to give thanks, in fair times and bad.
Not forgetting appreciation to those around us! For myself, great blog pals whom I've come to know! Thank you
bp
, for the ' E ' award though it's truly a big one for this God-Blessed Box ( I'll still keep it anyway =P ), but I'd like to acknowledge your kindness. It's not exactly the award, but the friendship with sincere concern, and all the heartfelt encouragement that your blog offers. A BIG ' thank you ' and
warm hug to you...
To close, a quick roundup of my Orchids' progress...
Ran Ran ( left ) didn't make it since the

damage during recent winter

. We bid her goodbye in late April actually. Still, we are thankful for her time with us. She was spotlessly gorgeous, and I'm sure that anyone who sees Ran Ran in person will be astounded by her grace. She was definitely one of the most beautiful Orchid we had.
Apparently, Ran Ran is too difficult to raise during freezing winter in Nagano, and many florists have refused to deal with this species in particular. First, it is 3 times costly than ordinary orchids. Second, conservatory-groomed species like Ran Ran are vulnerable in cold areas. However, it is still my desire to own Ran Ran and face the challenge again, so, I'll keep you posted when my new pot comes. =P



Rejoice with me! Good Phal Kun survived his first winter, not unscathed actually. He's left with 2 strong leaves since the winter ordeal. I couldn't believe my eyes when he started sprouting out in March! As I watch him grow day by day, I can't help imagining his new looks in months to come!
It's not just joy, but a thankful heart that something precious to me manage to stay around. It's like a miracle, I was so close to losing Phal Kun.
Well done Phal Kun! Grow Phal Kun, GROW!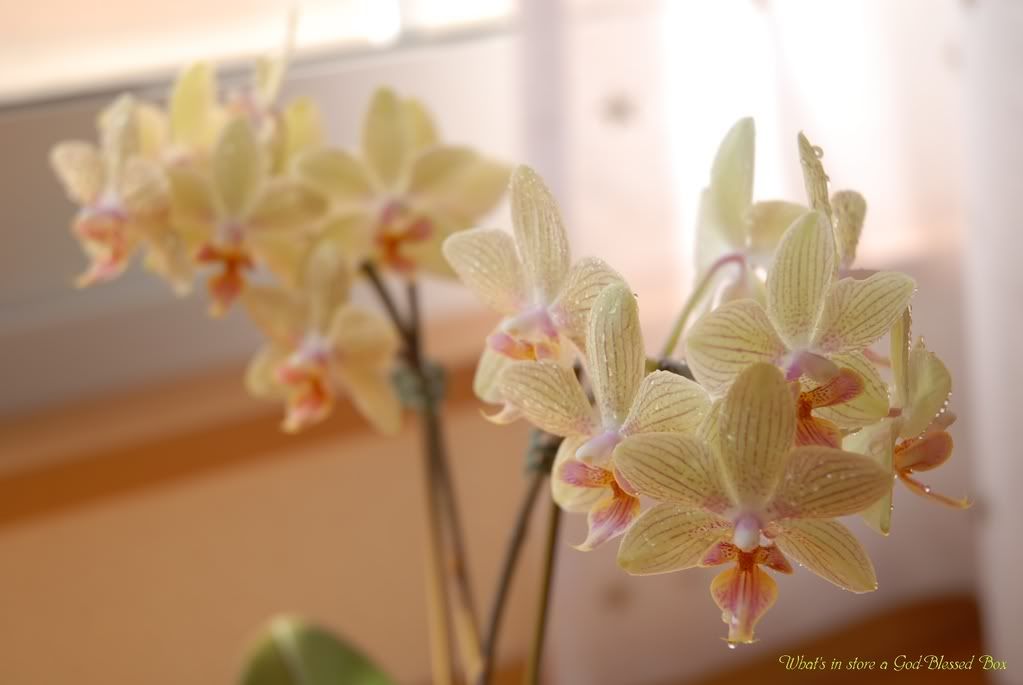 And then it's Rowndy, who's already fully bloomed for 3 weeks. Know what I mean by Orchids really last? Every flower is still fresh and sturdy! I bet Rowndy is going to last for at least another 2 weeks!
I deliberately took the picture in a soft mode, that makes him go in sync with the morning sun. I love this fresh and warm look he has. What a darling.
For the benefit of potential Orchid keepers, I shall share tips on raising Orchids, when I manage to find time later. Phal Kun and Rowndy are going to be my assistants! =D
Anyone born in May or happens to know May's Birth flower? It is the Lily of the Valley ( right ). I fell in love with this flower more than a decade ago when I first saw its picture, it was later that I found out that it is the flower that represents May.
With May being a special month for us ( our birthdays and wedding anniversary fall in May ), I can't wait to invite this flower to stay with us. Some may know that there are several species, and I finally found the shape I wanted! This is called a ' Dutch Lily of the Valley '. Below shows a shot taken from underneath.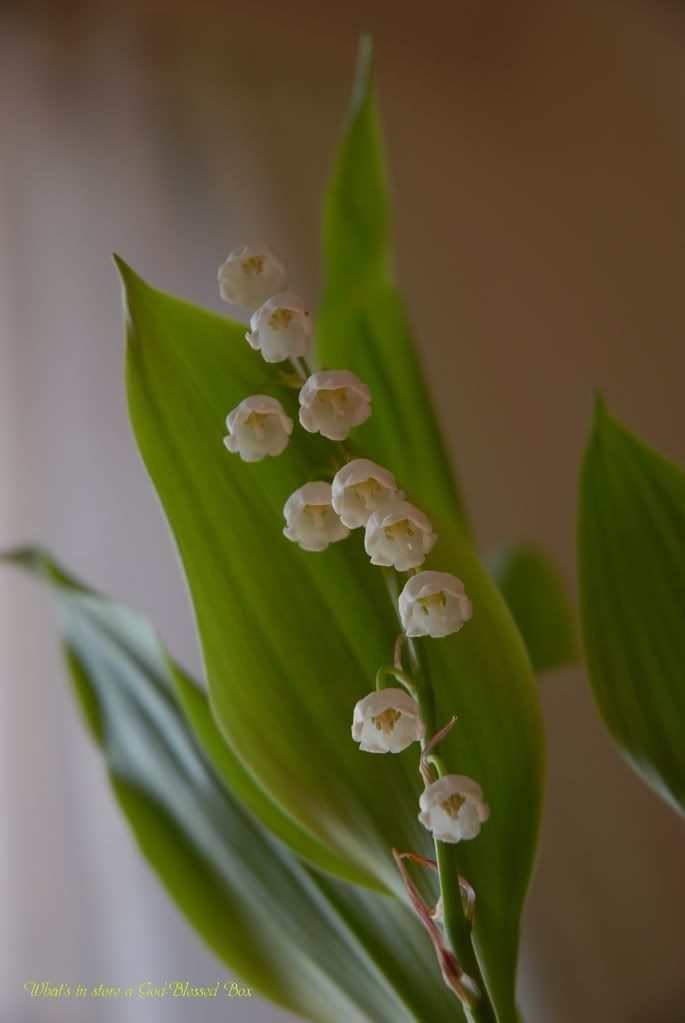 Not to bore you but I truly hope that pictures of plants do bring ease to your eyes. =) They certainly have a relaxing effect on me! I wish you a blessed weekend... =)