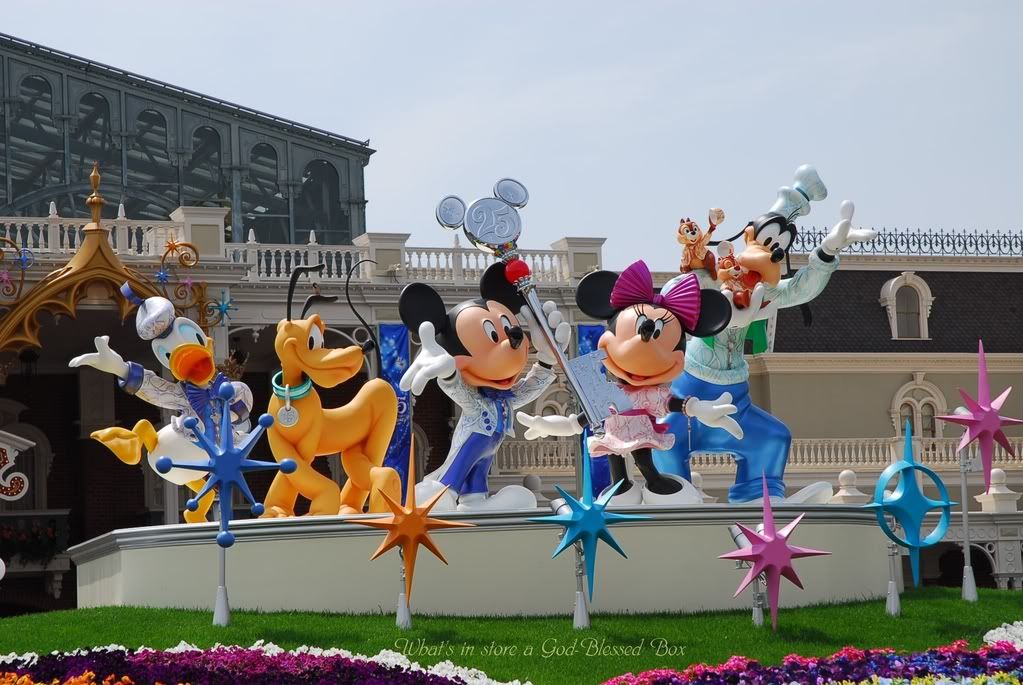 H

i there! Thank you so much for leaving kind comments and wishes for our 4th wedding anniversary! They certainly are a blessing to us, and we appreciate your kind thoughts from the bottom of our hearts.
Ever
y

year, the first 5 or 6 days of May is a much anticipated period for us! With the official ' Golden Week ' holiday beginning on the 3rd, My husband will take annual leave especially on the 1st & 2nd to have an extended break to celebrate our special days.
Call us ' childish ' but big kids like us simply can't resist the magical temptation of Disney! As usual, we celebrated our big day at the Tokyo Disneyland, that happens to celebrate its 25th anniversary this year.
Do you know? That there is a Tokyo DisneySea too in Japan? Located adjacent to the Disneyland, DisneySea is much newer and has more thrilling rides. We rotate between the 2 locations for our yearly celebration.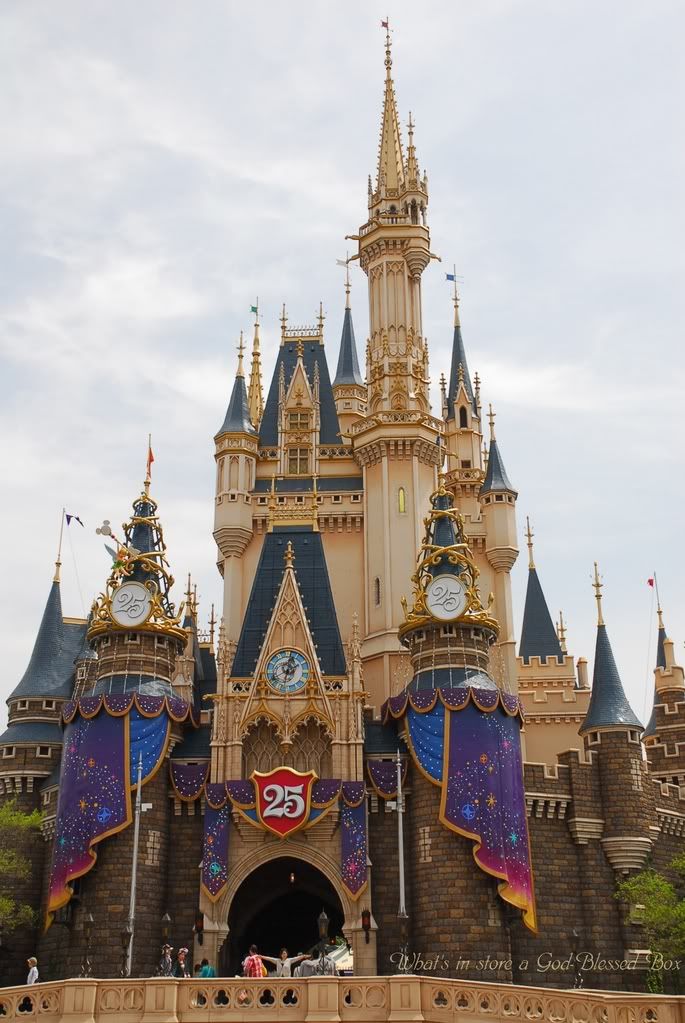 To indulge in true Disney fantasy, let down your hair! It's fun to see visitors putting on headgears or decorations, to feel like part of the Disney team. Oh yes, we joined them too. =P Despite having visited on a non-holiday, crowds of people flow into the theme park and made us queued at almost all attractions. We always choose to visit on a non-holiday so it really makes me imagine its state at peak period.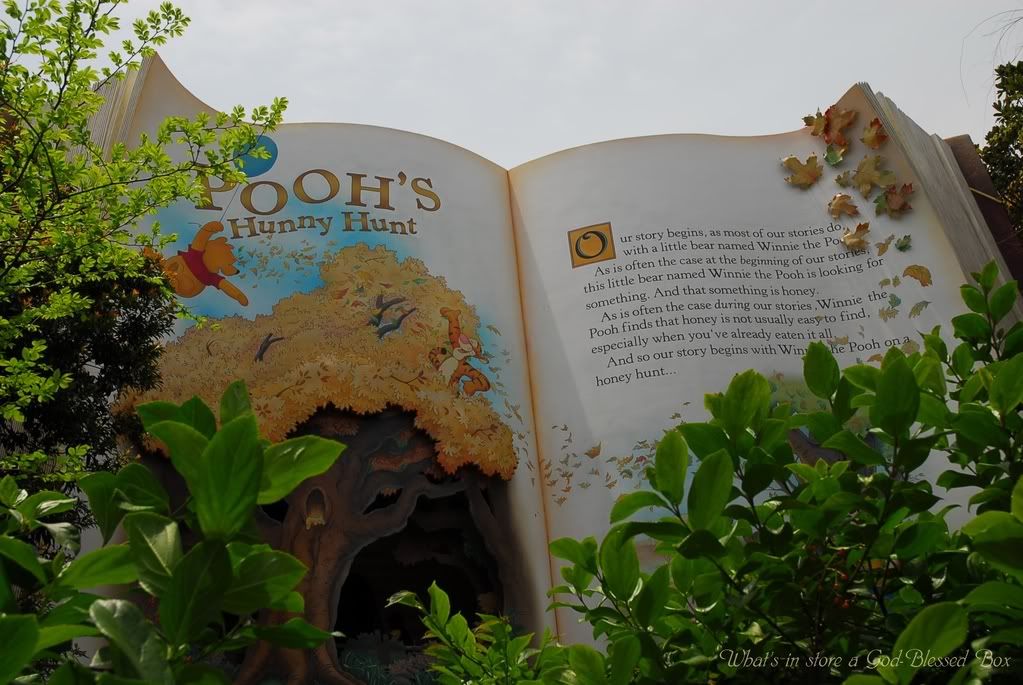 Ask me my favourite attraction; the answer is the ' Pooh Corner '. It seems that no one fails to be charmed by the silly old bear. The Pooh Corner is a rather new setup, I don't remember that it existed when I first visited 6 years ago. If you like Pooh, the Pooh Corner satisfies you with lotsa cute goods and spots for photos.
A study found that Winnie the Pooh is the most famous, adored and favourite bear character of all. This ' hunny ' loving bear that found its increasing favour, and clothes at last when it is groomed by Disney, is probably having its prime seat for good.
Both Classic Pooh and present Pooh appeal much to me. I can't decide which one I prefer! And it's not just Pooh, but the bees that often surround him. I love bees. I have a special affinity with the bumble thing, and bees appearing in Pooh's world are too cute to describe! The stuff that I have of Pooh, are mostly with bees.
Know more about Winnie the Pooh

here

.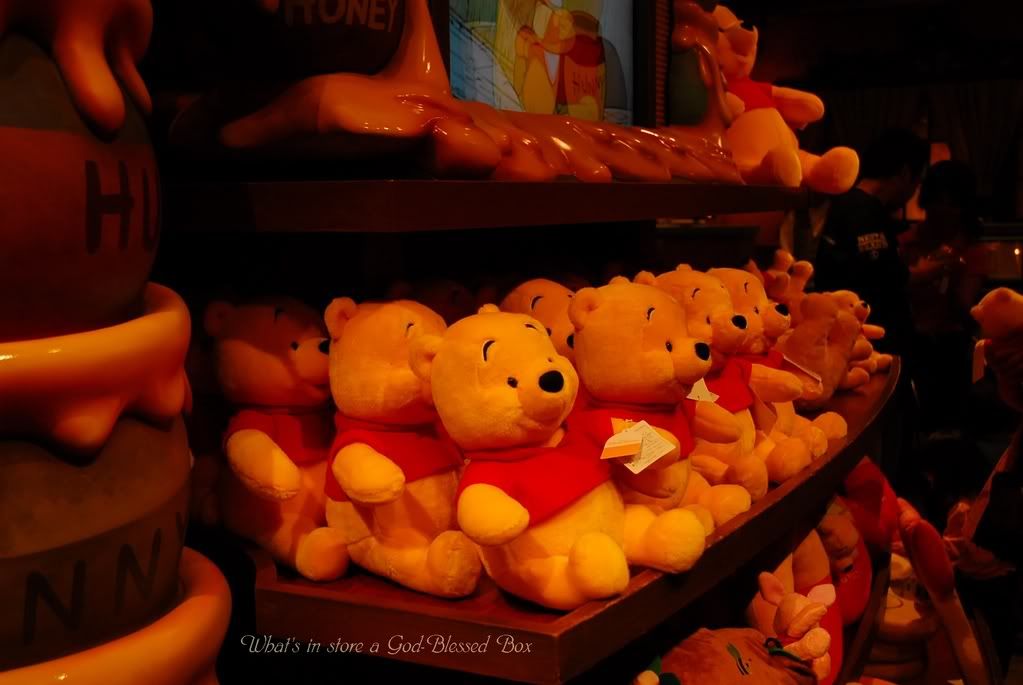 Have you ever wondered, just why Pooh? It isn't exactly a lot cuter than other bears, I mean all teddies are cute. What makes it an all-time favourite bear?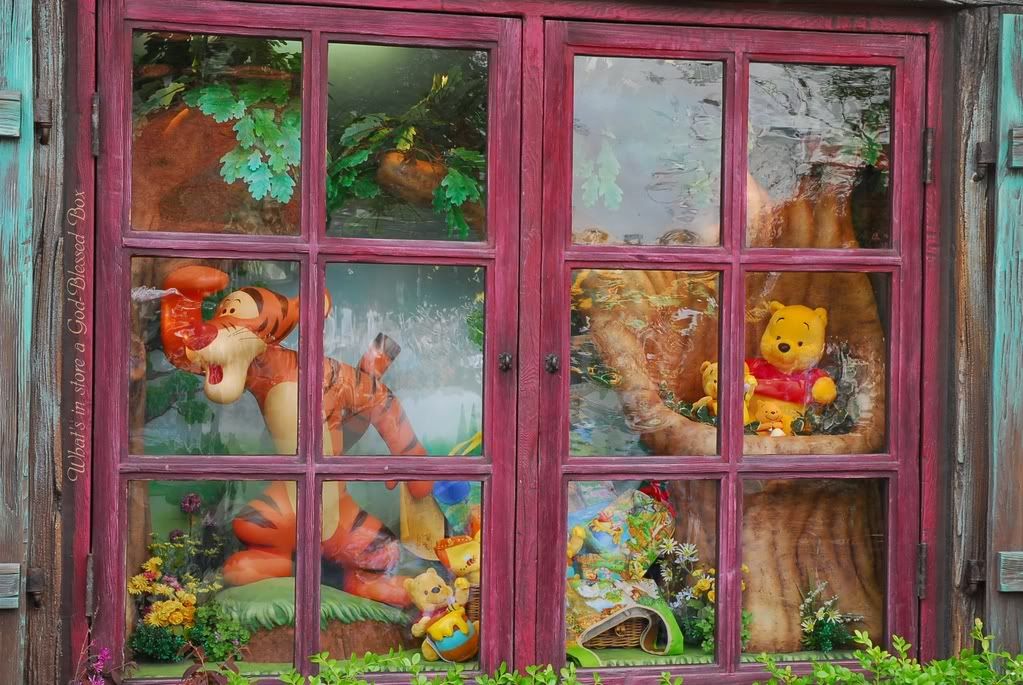 I have no idea about others but to me, the world of Pooh is kind, tender and warm. There is no trace of frustration that you can often find in Donald Duck, Pluto, sometimes Mickey, and others. Whenever Pooh is in deep disturbing thoughts, the scene doesn't last long enough as he soon reaches out for his hunny pot and rests the case. The world of Pooh and friends is without blamers, always helping, and always accepting. Pooh's world teaches most about love and friendship. It is a perfectly stress-less and evil-free paradise that can never be realized in the reality that we live in.
Enough of Pooh, let's join a parade! Clap, people, clap!
Japs are crazy about parades! They'll shout, scream, wolf call, clap at the appearance of the Disney superstars. They actually behave as if the characters have come alive! It's difficult to understand why normally expressionless Japanese can get so carried away at Disney. The love parades so much that they'll grab a good seat along the lane at least one hour before the show starts and standby, come rain or shine!
Me? Nope, I'd prefer rides and shopping instead. However, after being with my parade-lover husband for years, I found myself waving foolishly at some of my favourite characters!! Arrgh, what's wrong with me?
I'm quite certain that I am still not ' there ' yet, cos I'm still calm ( or sane ) enough to care about taking pictures. Or am I just not that spell-bounded after all?
Wait a minute, look who's coming...
It's the POOH, look my way, Pooh! LOOK HERE NOW!!!
Ok, I'll be starting a new corner called, ' Spot the Heart ', where I'll collect pictures of heart-shaped images. Spot the Heart at the right picture. =) I think the brilliant flowers are poppy.
At Disney, flowers catch your eyes everywhere. A documentary of Disney reveals that when the park is closed at 10p.m., it's when the busy workers begin their hard work overnight. Cleanups, repairs, maintenance, even gardening! Every single plant is removed and replaced with a new fresh pot, so that visitors may never catch a withering sight. Magic at Disneyland comes with great deal of effort, don't you think?
A plain fact about Disney though, we've yet found anything delicious at this

fantastic park! This anniversary, we had buffet for dinner as usual.
We've noticed slight improvement compared to previous years, though I still feel that it doesn't qualify a pass despite the price we paid.
Have you ever heard? That a couple slowly resembles each other as time goes by. They tend to be unexplainably alike in many ways...

What astonished me was our choice of desserts. Without knowing what our partner took from the dessert platter that offered so many different items, we had exactly the same desserts!
Do you see the bee chocolate decor on a sponge piece? I simply love the bee!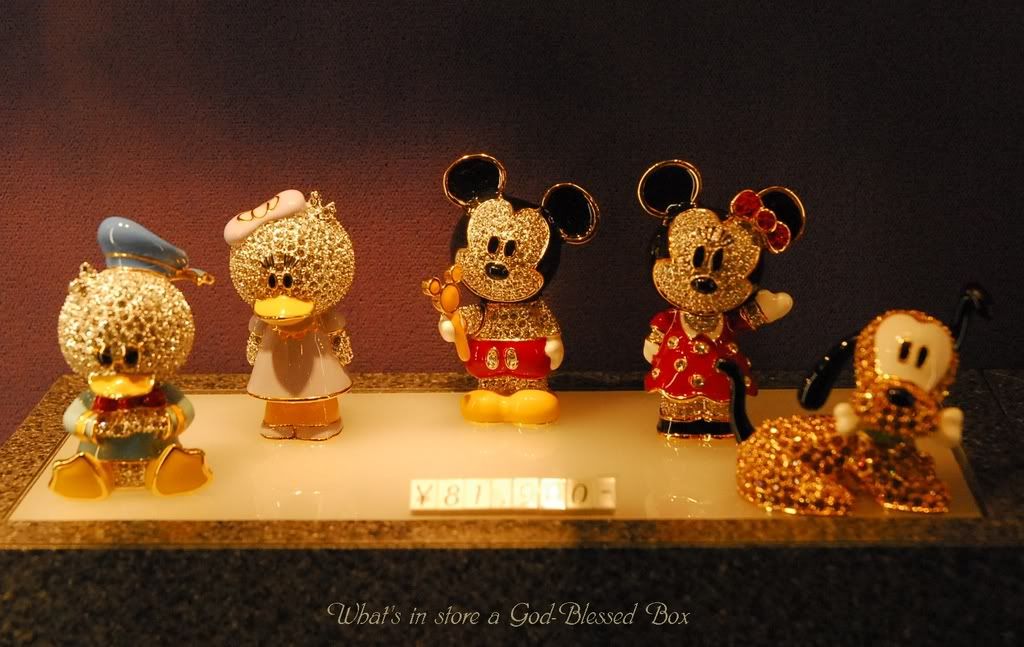 Crystals on already glamorous super stars. They come with a dear price that can fetch you a branded bag.
I don't mean to be sour, but I thought that crystals merely made these adorable figures look stiff, angular and almost disfigured? Stitch is my favourite Disney character ( followed by Pooh ), but he's so unrecognizable with this setting. =(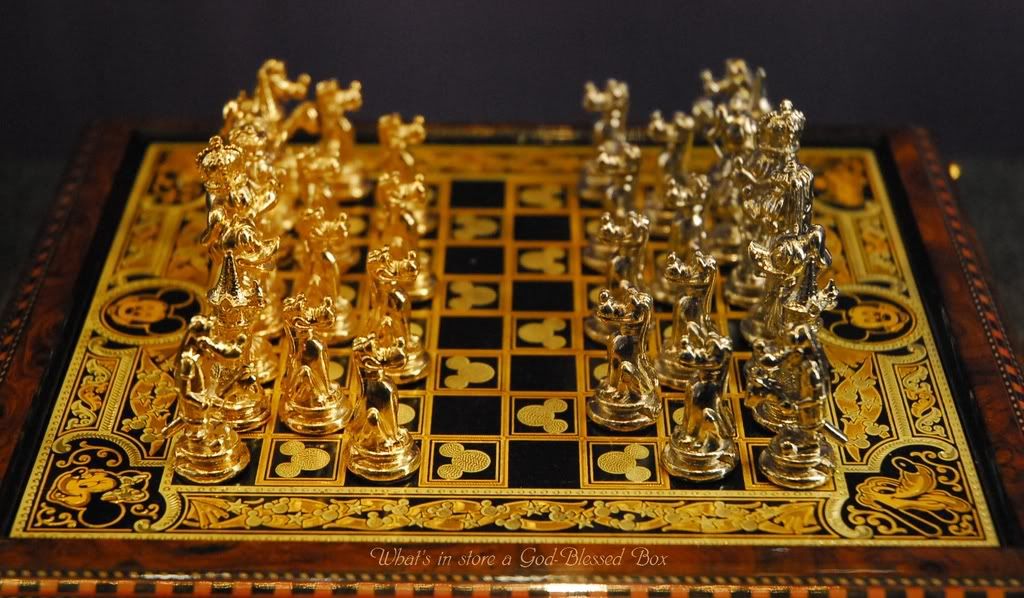 I guess this game is a for some celebrity grandpas who are still young at heart. I like this better than the crystal figurines.
On fine-weathered nights, Disney displays 10 minutes of fireworks with lightup of Cinderella castle and other attractions. This magical place would have make many leave with a contended heart if not for some constraints. First, the park is operated in Japanese language, so foreign visitors do agonize over food ordering, performance showa and etc. I find myself offering translation to English and Mandarin speaking visitors a lot. =P Then, please do not expect much about the food available, quite disappointing actually. Lastly, to be allowed for most of the rides, do stand at at least 132 cm tall. =P
We always return with a reluctant heart even though we were truly tired! Guess what, I must have been so dead beat that I dropped my Stitch cap at the park upon leaving and I failed to discover until 3 days later! My hubby was so upset that I should lose the couple-cap we have, and contacted Disneyland immediately. We recovered it at Lost & Found and they offered to send me the cap by post Besides being thankful for the found cap, I really must praise Disney for being a customer-orientated organization and makes people believe in its wonderful world of magic.