M

y husband's birthday falls on the 12th of May. This year for the first time, I had secretly planned to bake my husband a birthday cake! =D
It has been a strenuous weekend for us. There were so much mind-boggling thoughts that made me felt much like a punctured tyre that won't forward another feet more... but I decided not to let this dull mood pull me down. If I don't make this day a special one for my Bear, nobody else will. =)
So the task began before I knew that I was in for another good baking lesson. =P Ahh...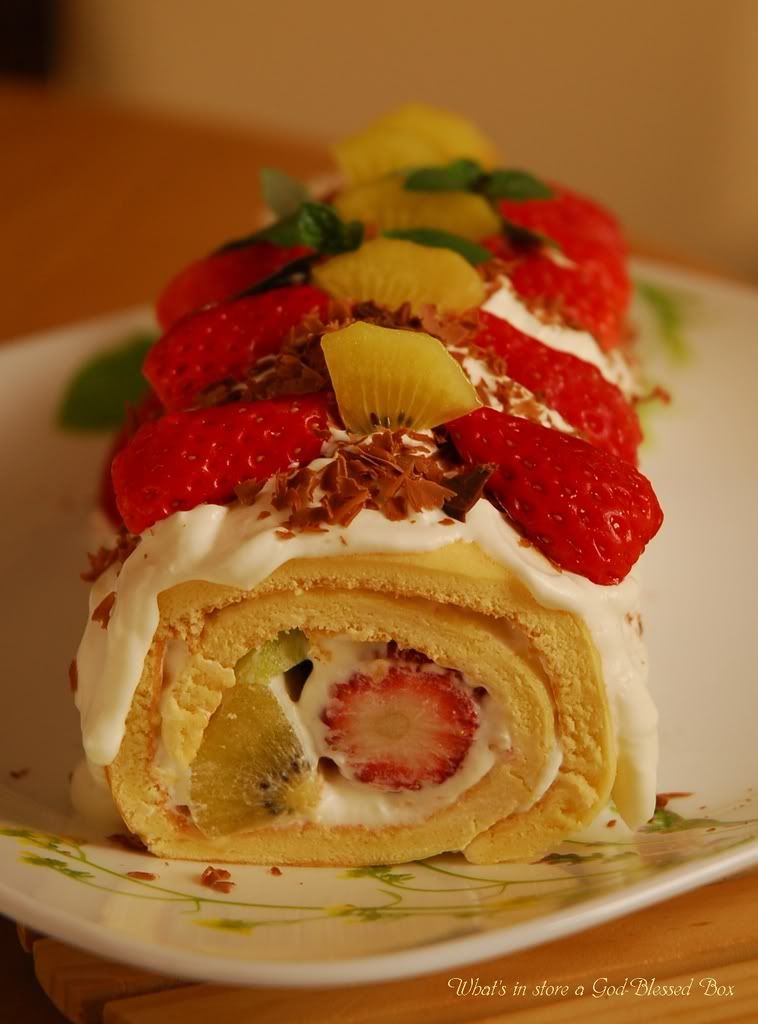 The chosen recipe was a simple roll cake, as I do not possess a round tin that makes a conventional round birthday cake. ' It's the thought that counts ', and I started the project with hope that it'll make the day perfect.
E
xperienced

bakers would have detected that the cake seems somewhat flat and true enough, it wasn't soft and spongy like it was supposed to be! For the cause, I probably need not recollect much to study where went wrong. The entire instruction was carefully fulfilled except for one : silly me forgot to preheat the oven beforehand and had to let the batter sit for 10 mins or so while preheating the oven! Anyway, this may not be the core reason behind the failure though, I shall be attempting the recipe again in hope for a decent roll cake the next time.
As I presented the lighted birthday cake to my darling, I carried it with a prayerful heart. ' Dear Lord, please bless this man, with good health and many blessed years ahead of us... ' It is always such a joy to see the child-like delight on his face, he did not expect anything else other than the favourite dishes that he requested. I truly felt sorry about the flunk, but he wasn't too disappointed with the cake, my husband has always been an accepting person. A promise to bake a better roll cake next time put a perfect grin on this greedy guy's face.
As a wife, I desire to be a blessing to my husband, and to find favour in God's eyes as a good partner. There may be tiring times, but the moment when I know that my efforts are appraised by the Lord, it gives me the strength to carry on. May I never forget to ever embrace my partner with an edifying love and to think first his interest

rather than my own.
Not solely on birthdays or special days, may I always remember to shower a gentle love and care, with a cheerful heart. =)