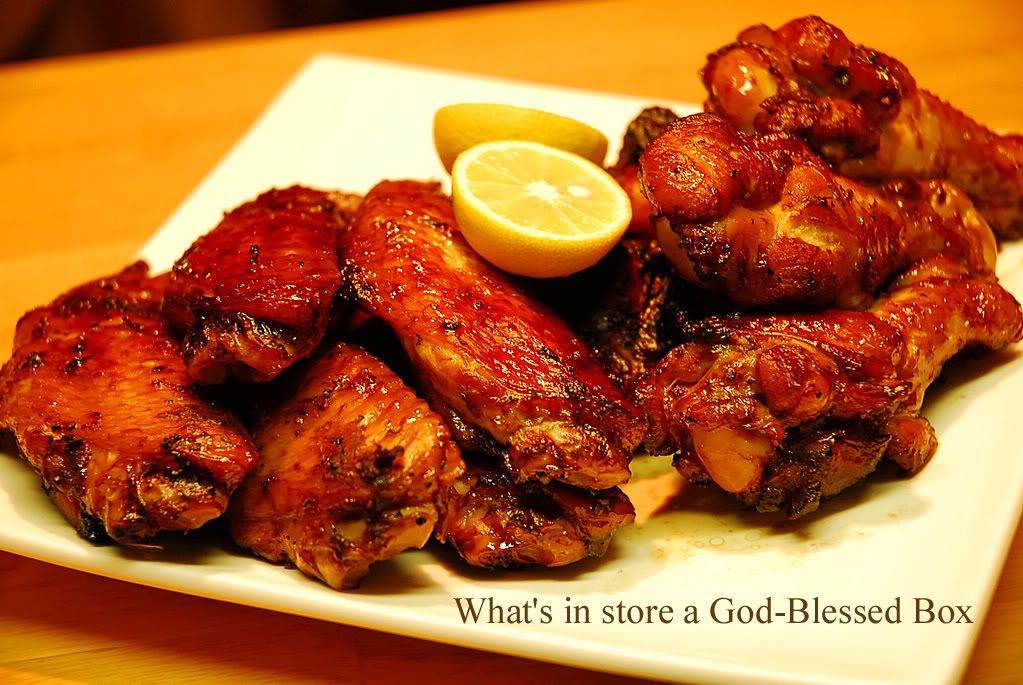 I
spotted lime in the supermarket the other day, to my utmost delight! =)
LIME! It may be a regular in all supermarkets around the year back in Singapore, with foodstalls offering them generously to customers, cos it's downright dirt-cheap. Here, I bought 4 at Sg$3, how's that? Will $3 fetch me a good bag like half a kilo in Singapore?
%#&@#%
Anyway, I just couldn't resist them, and got a pack back for a make-believe : the sight of anything that's close to Singapore makes me feel that I'm back home. =)
The recent trip back for CNY holidays, I introduced my husband to some deliciously grilled chicken wings found in foodcourts downtown. The skin charcoal-grilled to perfect crisp with juicy plump flesh, dashed with lime squeezes...AHHH, the thought of it makes my mind scream. My husband relished them much and gained better understanding why I miss the taste of Singapore so badly.
So the limes turned up for the home-made version of grilled chicken, only to be exposed as sour imposters. They tasted like...a lime and lemon in-between? It was a citrus fruit alright, less sour than true-green lime, so the kick wasn't there. I was a little disappointed, but they did not ruin my chicken at all so we still enjoyed dinner greedily.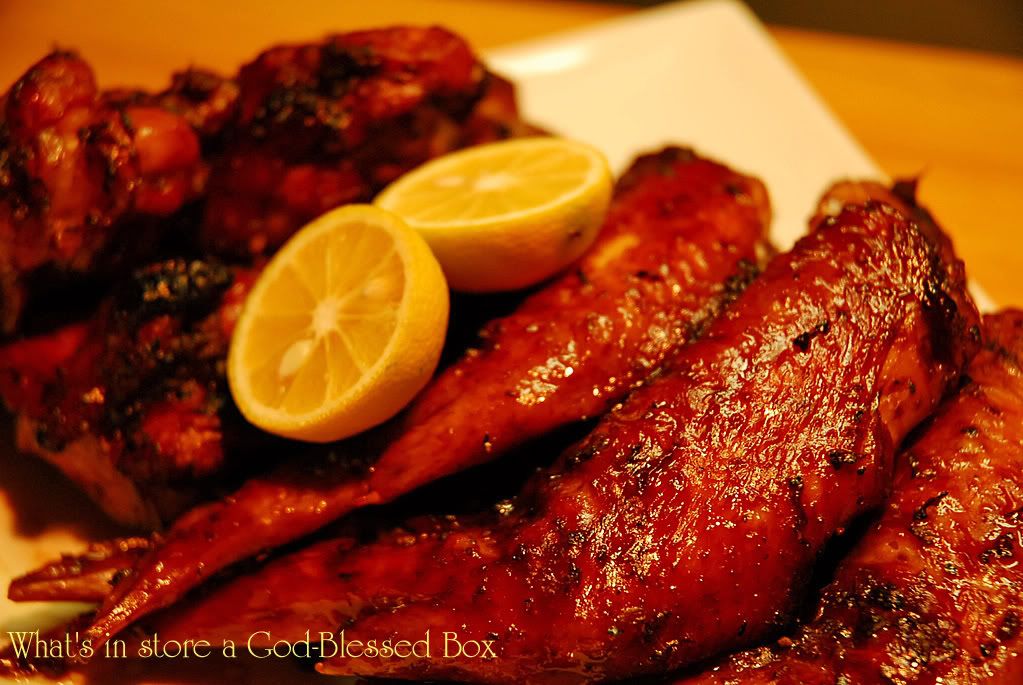 This grilled chicken isn't derived from those foodstalls' secret recipe that they hold on dearly for a livelihood, but it ain't to be slighted either. The marination works for frying, grill and BBQ alike. Mum happened to identify the ingredients used by our favourite fried chicken stall, she then experimented at home, and it worked! So this is within our family and I just thought that good things should be shared. The greatest merit of this recipe : it's incredibly easy!
Recipe for Grilled chicken with soy sauce and easy spice
Prepares 5 chicken wings and 5 chicken drumsticks
Tools needed
1 piece of plastic bag that all the chicken pieces can fill in. A fork.
Ingredients
5 chicken wings and 5 drumsticks
1/4 medium onion, grated
2 tablespoons of wine for cooking
1 tablespoon of sesame oil
1 tablespoon of dark soy sauce
1 tablespoon of grated garlic
1 teaspoon of grated ginger
1 teaspoon of oyster sauce
Salt
Pepper
Black pepper
1. Using a fork, stab chicken pieces in the flesh to enhance marination.
2. Very lightly, salt and pepper chicken pieces. You may like to enter slit at thick fleshy areas to ensure thorough cooking.
3. Into the plastic bag, pour grated onion, wine, sesame oil, dark soy sauce, grated garlic, grated ginger, oyster sauce and few dash of black pepper according to one's preference. Mix well.
4. Drop chicken pieces into plastic bag, using both hands, massage and turn them around for uniform marination. Marinate for an hour or so. The plastic bag serves as a good tool than bowls or plates, but be careful of potential leak due to tear.
5. Observe the color, if it is too light to look good, add in 1 teaspoon of soy sauce to mix. It shouldn't affect the taste too much.
5. Grill chicken and watch for good timing to turn them around for different faces. My oven isn't very reliable, so I used a gas grill. To bake, the timing should work like any other chicken recipe. For frying, they are just as good, with or without flour coating.
Now you won't believe it unless you've tried. Onion, garlic and ginger goes in unbelievable harmony that gives a unique taste, and a good aroma. As for the limes, I'll just forgive them. Who knows, I might get them under an impulsive urge again. =P

Have a good weekend now!