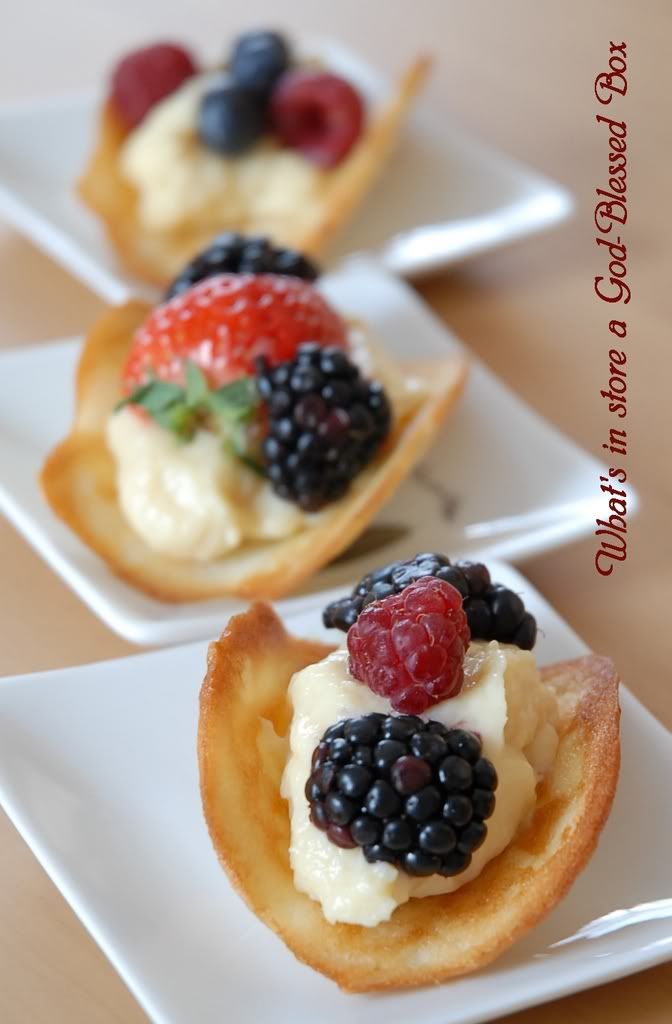 T

GIF!
Bought some lovely berries to complement the chocolate cake that I made yesterday. The cake turned out great but the topping...whew... was disastrous. Had some left over berries and decided to make something today cos I knew too well that I shan't be making anything on Sat & Sun. =P
My first attempt on these light Tuiles and they were easier that I thought. This French petite snack was pleasingly aromatic with baked almonds, and very crispy to my expectation.
As for the berries combination, I was quite sure that they wouldn't go with Tuiles just like that, so I made some simple custard to go in between. The tuiles did go
soft a little after placing the custard on, but the taste was surely harmonious. ( Some excuse to rationalize my crave for custard... )
To serve guests, set custard apart as option.
Recipe for French Tuiles
( adapted from Japanese recipe on Fine Sweets )

Ingredients ( Makes 10 large Tuiles )

Wheat flour : 15g
Sugar : 38g ( Reduced to 30g, sweetness was fine )
Egg white : 30g
Saltless butter : 13g
Almond slices : 33g
Vanilla essence : Small amount
Salt : A pinch

Preparation : Sift wheat flour and set aside. Melt butter to liquid state. Brush oven plates with butter in advance, oven paper is an option. Preheat oven to 180 deg.




With a hand mixer ( not an electric one ), mix flour, sugar, salt. Afterwhich, add in egg white and stir till the mixture turns smooth.




Add in melted butter and vanilla essence, and mix well.




Add in almond slices and fold in gently without breaking the slices.




With a dinner spoon, scoop batter and place onto buttered oven plates, do place them further apart. The batter should land with a low mount. Using a fork wet with water, spread out the almonds within the batter so that they will not overlap. This action should make your batter spread wider a little.




According to the recipe, it says, ' Bake and watch the tuiles until they turn brown entirely but not burnt. 'As my oven isn't very user-friendly, I got my tuiles out at 10 mins before they turn too dark. After consumption, I realized that I could have baked them longer to enhance crispiness. I think I will try baking them until they turn brown throughout, the next time.



Tuiles are flat after baking. You may like to warp them for a special touch. Do this fast or the tuiles will become rigid after cooling. Wrap an aluminium foil over a rolling pin, place hot tuile on it, with another hand covered with foil or whatever, gently press tuile onto pin to achieve the curve. Serve only when tuiles are cooled and hardened.


Recipe for Easy Custard



Ingredients ( Custard serving for 10 Tuiles )
Wheat flour : 20g
Sugar : 30g ( Reduced to 20g and the sweetness was alright )
1 egg, beaten
150ml milk
Vanilla essence : A little
Cream : 1 and a large tablespoon




In a pot, mix wheat flour, sugar with a hand mixer ( not an electic one ). Add in beaten egg and mix till texture is smooth.




Add in milk, and vanilla essence, mix well.




Place pot over medium fire and continue mixing. Once mixture is boiled, remove pot from fire and place into a large bowl of water. When it's cooled a little, add in cream and combine mixture well to get a smooth custard.



Enjoy! Do the washing later.
Have a lovely weekend!