M

y hubby told me that the weather could be very unpredicatable during Spring. True enough, the sky has been heavily veiled by tones of grey for almost 3 weeks! Then came this day when Mr. Sun decided to appear and paint the whole sky blue.
=)
I was talking to dad the other day on a long distance call, he asked about my health and the climate. I admited that it was still cold especially on days without the sun, and he told me something like Singapore hasn't been sunny too for several days. He wondered where those blue sky days had gone, that he often saw when he was still as a child. He claimed that he has not seen any sky blue enough for so long... Or was he just plain busy to even catch a glimpse of the occassional blue sky...
On this sunny day, when I looked up and gazed upon the deep blue, I was wondering if this was what dad used to see during his younger days... How nice it would be if he could join me for a walk at this moment...
Is there anyone that you think of, when the sky is so blue...

Oh, I'm sorry about bringing in such blue thoughts... I guess I still miss my family afterall. Everytime when I enjoy something in Japan, I always thought of how marvellous it would be if my family in Singapore could share a moment of same bliss with me...

Alright, let's walk...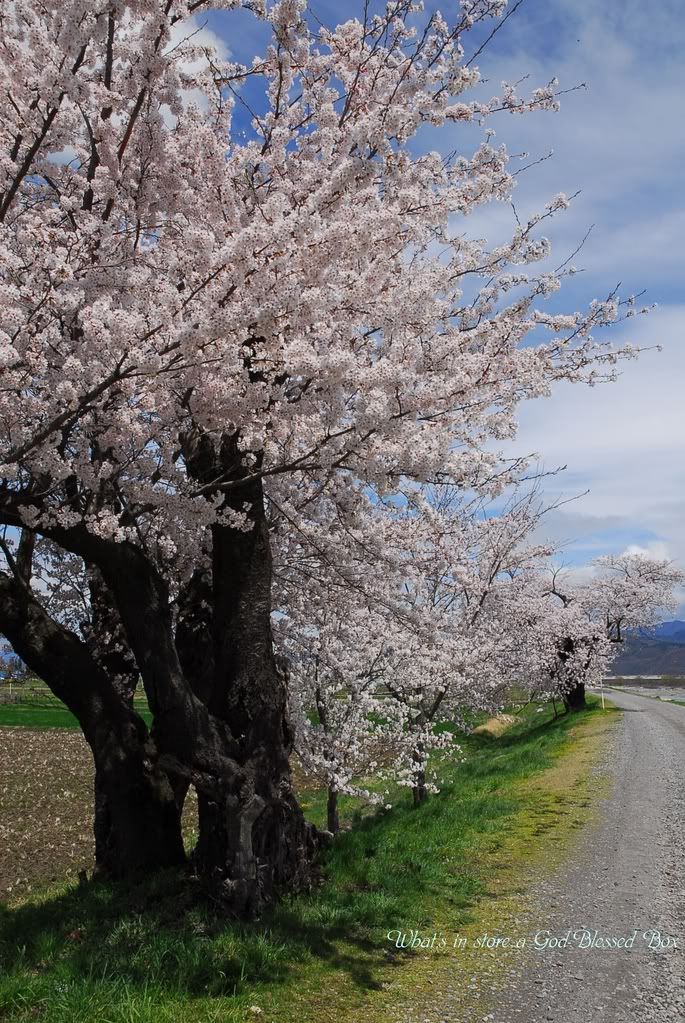 Nobody should pout on a day like this! Even the trees looked smiley! =D We enjoyed a quiet walk along this road and admired the blossoms carefully. There were just 2 of us and the road felt like it was ours. HAHAHAH!!!!
As you can see, these trees are round, plump, growing sideways and upright, unlike those willow-like Sakura trees that I've mentioned in the earlier post. I really like these trees much better! =D Oh but of course, nothing against the willow-like ones. =)))
For those growing on mountains, hills or unreachable grounds, they are growing wild! No, it wasn't me. The wind did it. =P Isn't it difficult to differentiate between the planted trees and wild ones? What do you perceive from the picture above?
This is actually a lavendar garden. See those grey bushes on the ground? Sprouts of lavendar are sneaking out from them from late July. Suddenly, it just came to me... just how NICE if Sakura, lavendar and fresh green could be staged together at the same time! Like those stars performing at MTV award show and etc, you know what I mean? My husband chided me for being ' greedy '. He said that God made nature this way so that the flowers could get their due attention in their short lifetime, without unneccessary rivalry. Flowers of different kinds bloom in periods apart, so that they can offer joy to men from spring to autumn.
He's absolutely right!! I want my salad, cold dish, main dish, fruit and dessert in the most fitting order. Not a big plate with everything tossed and mixed together!!! Ok, does this sound in anyway relevant to my hubby's theory? =P
Look! How the mountain was dotted with clumps of pink! I was lost for words at this magnificient sight until my imagination started running wild. What if those round pink fellas were bushy monsters and came running after me? Where was I supposed to run cos there were so many!! Oh no* Oh... and then my husband came pushing me at the back to make me move on. Oh, I was so glad that it was not a pink monster... =D
We treaded on, and past by these statues in the garden. Some typical Japanese Buddhist statues, but I thought the mini ones in front were cute. Now, let's have a quiz. Do you notice anything special about these statues? Take your time to find out before you scroll down for answer.
I say, no cheating...
GOT IT? This cheeky fella was facing the sidewalk to greet the visitors. I couldn't stop laughing when I noticed it! Oh but I doubt many could see it cos most people would have been so engulfed by the pretty scenery all around!
Just see how pretty they are even if they are wild.
I really enjoyed this walk with colors of blue, white, pink, yellow and green. Don't you agree that God is such a magnificient artist?
If only blooms take place within seconds...
And transform from a bud into flower in a blink! I miss Discovery Channel. They have those ' fastforward scenes ' that show how flowers bloom, babies hatched from eggs and etc. I've always enjoyed documentaries on nature. =)
See what my hubby meant by an ever-changing weather during Spring? This was taken an hour after we left the lavendar garden. Mr. Sun went on a strike again. He wasn't receiving his wages, you see.
If Mr. Sun was in a good mood, we would have been fortunate enough to see the alps behind those cloudy parts above the mountains.
A family taking pictures after their picnic under a tree. I hope they had a good time like us, with the earlier sunshine. =)
What a contrast. Which do you prefer, white or pink?
A forest of Sakura trees. ' Probably, they would really turn into pink monsters if they were under a spell... ', I was giggling along the track, trying hard to avoid my hubby's suspicious darts.
Ok, these were enormous, strong... they had countless extending arms and...



They've ruthlessly encircled the whole hill!!! I could run but I couldn't hide!!! And I went giddy when I realized the height and then... my husband asked me for a different lens to take this picture. =P
It was getting cold and dark when we called it a day, but we were satisfied. I was still thinking about those pink monsters and probably giggled much in between, cos my husband kept on checking my looks. I know that he prefers a silly me rather than the gloomy side that appears whenever my mind travels back to Singapore. I certainly hope that one day, my family would take time to join me for such a fine season in Japan.
I hope that you've enjoyed the walk too, and maybe, you'd be tickled by the ' pink monster ' wild thoughts also. =D