H

ow is the New Year celebration like at your place?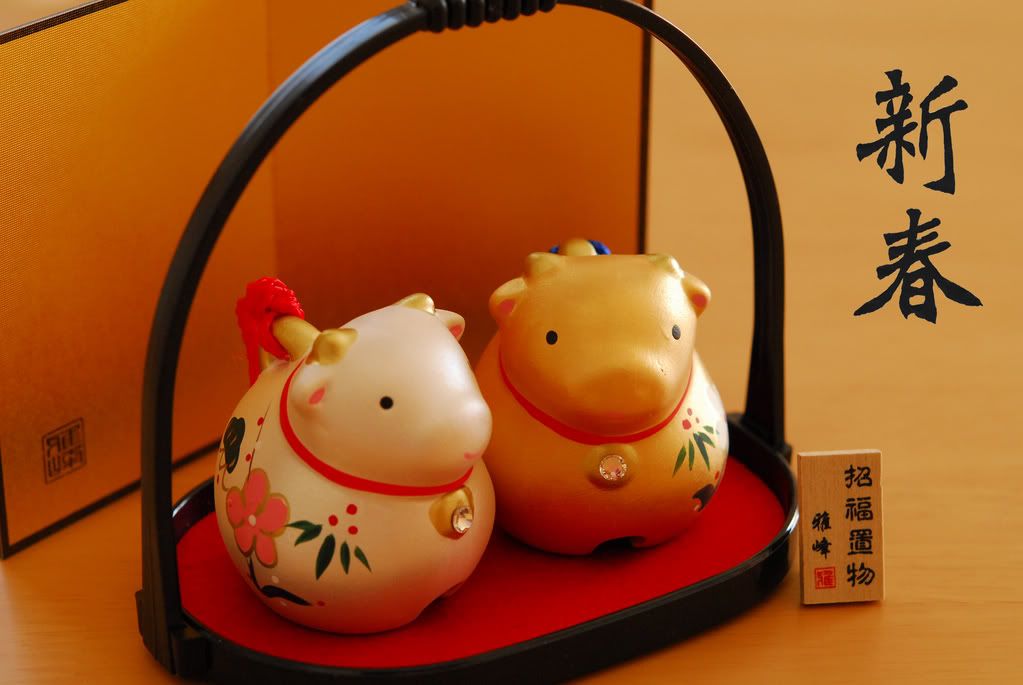 Jap's homes are generally spring-cleaned and decorated with images of Ox as it is the official animal for this year, according to the Japanese zodiac calendar. On the eve, families gather around merry-making at cosy homes, accompanied with sumptuous dinner and sake ( Japanese wine ).
Back in Singapore, where most homes will have the ladies slog in their kitchen for a great dinner, the Japs have theirs settled in a much less taxing way.
They actually have their feast, ordered/catered. See picture below for an idea. Nice array of food stacked in layers.

I recall the the first time I joined my husband's family for dinner on eve. I felt an enormous pang of remorse and participated with quiet reservations for rest of the night, as I failed to lift a single finger to help out in the kitchen for the elaborate spread. Silly me only managed to discover later, my mother-in-law never had to prepare any food for the eve's dinner, they actually have their entire stuff ordered!

That's so neat, I thought. It eliminates my worries of not being able to prepare some ( read : many, much! ) traditional Japanese dishes in future, and a lot of trouble!
.............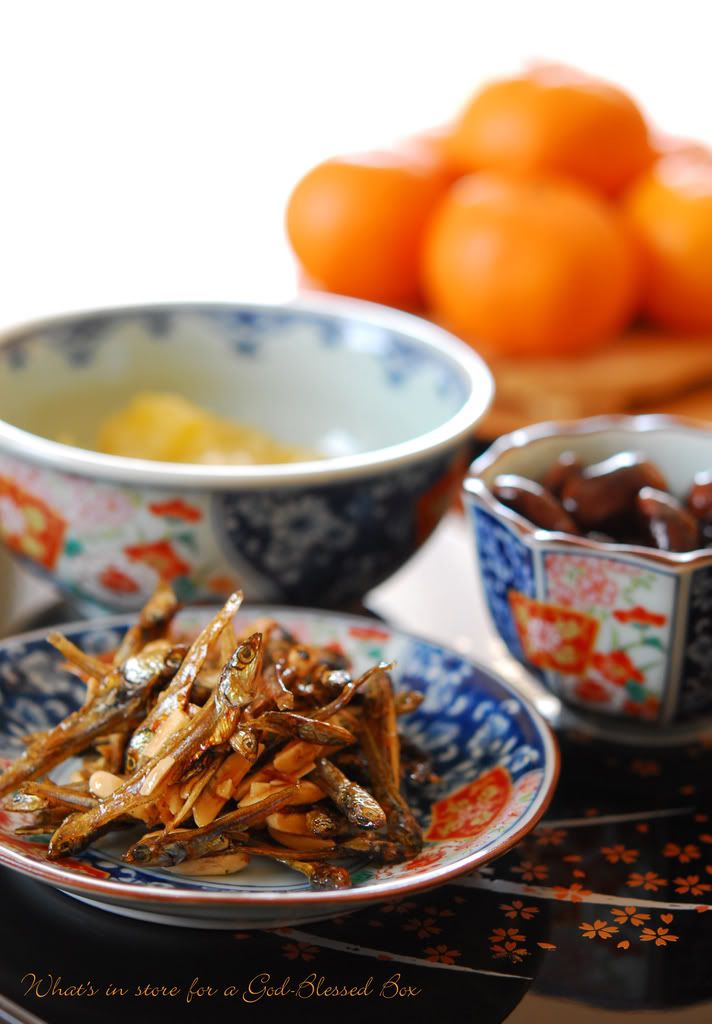 At our little home of 2, we don't order those beautiful stacks of food-boxes that we have little chance to finish. However, we bought ( wide grin ) some dishes from stores to cook up a traditional ambience at home. Introducing my favourites :
栗きんとん ( Kurikinton )
.............
Chestnuts basked in chestnut or sweet tapioca paste, pleasantly sweetened like honey. Richly yellowed as if gold, it signifies abundance and prosperity for the New Year.
黒豆 ( Kuromame )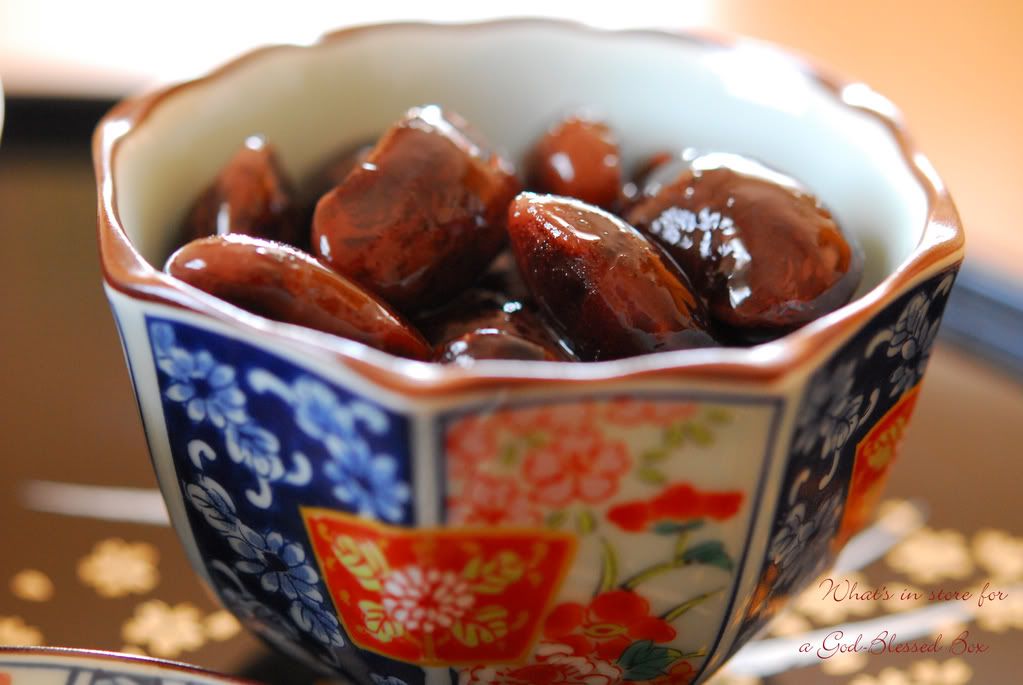 Large beans prepared tenderly soft, and delightfully sweetened. This protein-rich dish bodes health and strength. Hubby added that it also means a year of smooth work.
田作り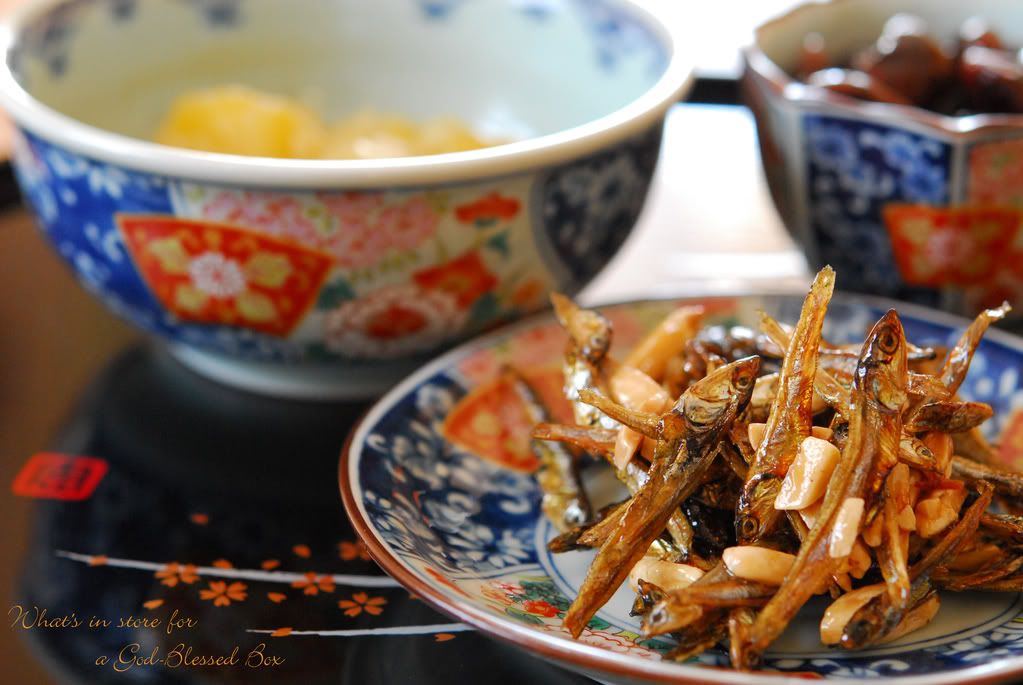 Ancient Japanese used these dried fishes as fertilizers, and consumed them in hope for a year of bumper harvest. They are a little hard but deliciously seasoned sweet and salty. I chose my pack garnished with nuts. In a way, I'm glad that modern Japs still cling on to their tradition faithfully, without ruling out these simple but delectably good stuff.
Still, New Year isn't New Year without a decent feast. To make up for the absence of those magical boxes, I prepared a steamboat with heaps of crab, prawns and other prized seafood, in a, ... er hem, rather tedious and Singaporean way. =P