A

mail requested for my opinion on some forum and it started with,
' Dear author of 'What's in store for a God-Blessed Box...' '
DAH... I'm totally embarrassed, for I've forgotten clean that I own a blog! And wait a minute, having a blog makes me an 'author'? =P
Anyway, the never-have-been-blog-savvy me offered no comments, but I thank it for the tight slap that my blog is staling.
I have news, and trivas too. ;P
1. Bear has received result for his annual health screen, and he's beary healthy!! I claim no credit, as
we owe everything to God who has blessed us with good health, and every other good things we least deserve. Simply said, we're simply blessed. All thanks to our heavenly Father above. =)
2. Lil bro serving in the army, is back home in a piece after a month of intensive overseas training. =D I was praying that all typhoos would shun Taiwan and come Japan instead. =P My sweet hunk is assigned to combat, so everything's naturally tough but he has never complained. Army has made the boy a big man now.
Kudos to all Singapore's boys who serve and protect our country!
3. Japan has enjoyed a good long holiday amidst the comfortable autumn, and still enjoying local produce of huge plump juicy grapes ( 巨峰 ). If you think you like grapes, wait till you've tried Jap's. It' so good, it's insatiable!
Some vegetables are dirt cheap these days, a carrot comes with 4 free. If nutritionists are right about ' you are what you eat ', come see me look like grapes and carrot in a week.


4. Tsk. What's up with the blog radio again. =( Gotta start searching for a new radio. Grr...
.

5. I've received another mail from a reader. The font of the blog is feedbacked ' too small '. Do you think so?
.

6. I'm having a new love...







I shout ' GORGEOUS!!'. Nod your head this instant. Fully-bloomed at last, 3 weeks after acquisition ( one bud outstanding actually ), and I can't wait to show off my new love. =P



............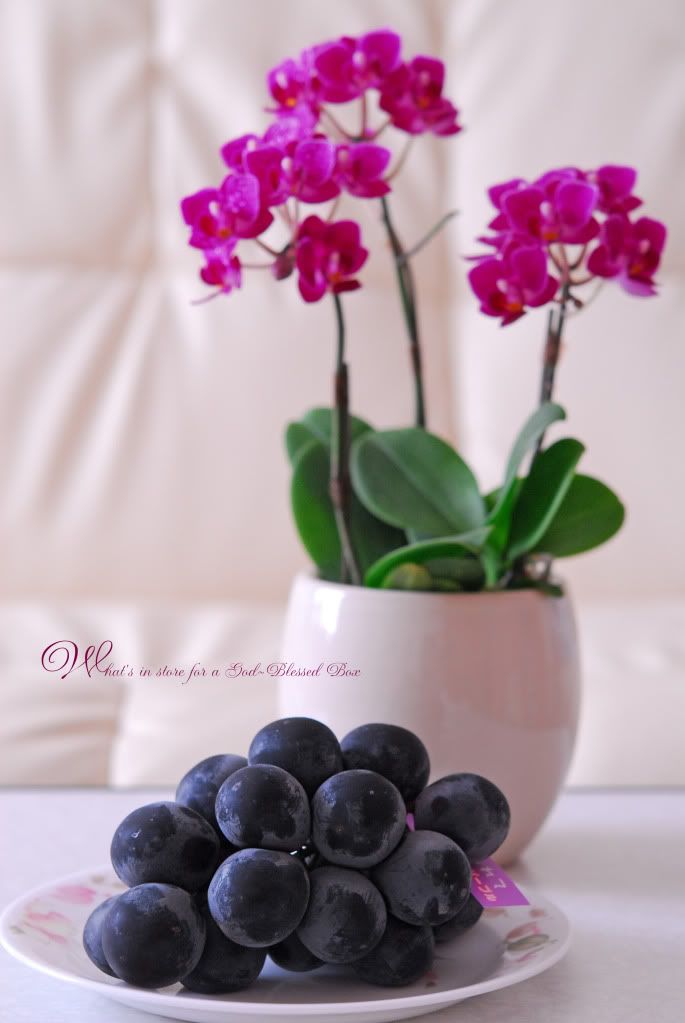 7. My instincts have named it 'Grapey'. Its blooms look like bunches of mouth-watering grapes, you agree with me? Yeah? Horrid Bear calls me ' predictable '. Grrr...
Right, I'm done for this week's, and I'm reaching for a bunch of grapes now. I said 'grapes', not 'Grapey', you heard me. =P
Ciao!